A workbench is a table used by a carpenter or other craftsman to hold tools and materials while working on projects. It can be located inside the garage or in a workshop, and its purpose is to provide a safe stable space for woodworking and/or metalworking. A good workbench has certain features that make it ideal for your needs. However, what tools do I need for my workbench?
The tools you need for your workbench depend on the particular things you are trying to do. If you are relying solely on lumber that has been pre-cut at the lumberyard, you don't need any saws. So, you can get by with some hand tools and also an electric drill. However, if you're doing more than that, like cutting your own lumber or making your own doors and drawers, then you might also need a jigsaw, circular saw, router, and sander.
Let's see why this is the case. Below, I will go into more detail:
The workbench itself: What Tools Do I Need For My Workbench?
When you are building things, it is important to have a good workspace. This area must be clean and neat so that you can do your job well. It must also have enough space for you to spread out all of your tools and materials. You may find that a workbench will help you with this task. I wrote another article with Woodworking Tips.
A workbench is a large, sturdy table that allows you to work on many different types of projects and is the most important tool in the workshop. In some cases, you can even use it as a place for storing your various tools and parts. The best of these benches must be sturdy and strong. It should also be able to handle any type of project that you want to tackle. Many people choose one that includes drawers, which helps them keep their tools organized and easy to reach when they need them. These benches are often made out of heavy-duty steel or other tough materials that can withstand hard use.
The top should be at a height that's right for you and the type of work you do and large enough to allow you to build projects without constantly bumping into the edges. When setting up your shop, arrange your tools so everything is within easy reach of the benchtop.
This is the heart of your shop. Without it, you'll have difficulty holding your boards together as you attach them, and forget about sanding or using a hand plane! You'll want to make sure it's solid and sturdy (along with everything else in your workshop, actually), so make sure you buy one that can support the weight of whatever project you want to work on.
The most important consideration when selecting a bench is how you intend to use it. Do you plan on using hand tools as well as power tools? Are you going to need a large surface for cutting large pieces of lumber? A bench that is too small or too flimsy will be more frustrating than useful.
There are some components that every bench should have, because they provide the means to get the most out of your workbench:
1. The front vise – A front vise is a vice attached to the front of the workbench. It's an extremely important tool, possibly the most important. Its primary purpose is to hold your work while you're working it. The front vise is usually attached near the left side of the bench.
2. The end vise – The end vise is usually used for holding boards flat on your bench. The board is laid face down on your benchtop and clamped into the end vise by tightening the screws. The workpiece will be held in place while you plane it or saw it to shape.
3. Bench dogs – A bench dog is a tool used to hold workpieces to the workbench. A bench dog consists of a peg, generally round or square, which fits into a hole in the bench.
5. Tool tray – In order to keep your workbench organized, many people find that a workbench tool tray is the way to go. These trays are great for keeping items that you need close at hand such as pencils, rulers, tape measures, and other small tools. They make it easy for you to access these items so that you can use them when needed.
The workbench should be sturdy enough to support the weight of the tools you use and have a surface that won't easily scratch or dent. A good quality bench will last decades with proper care.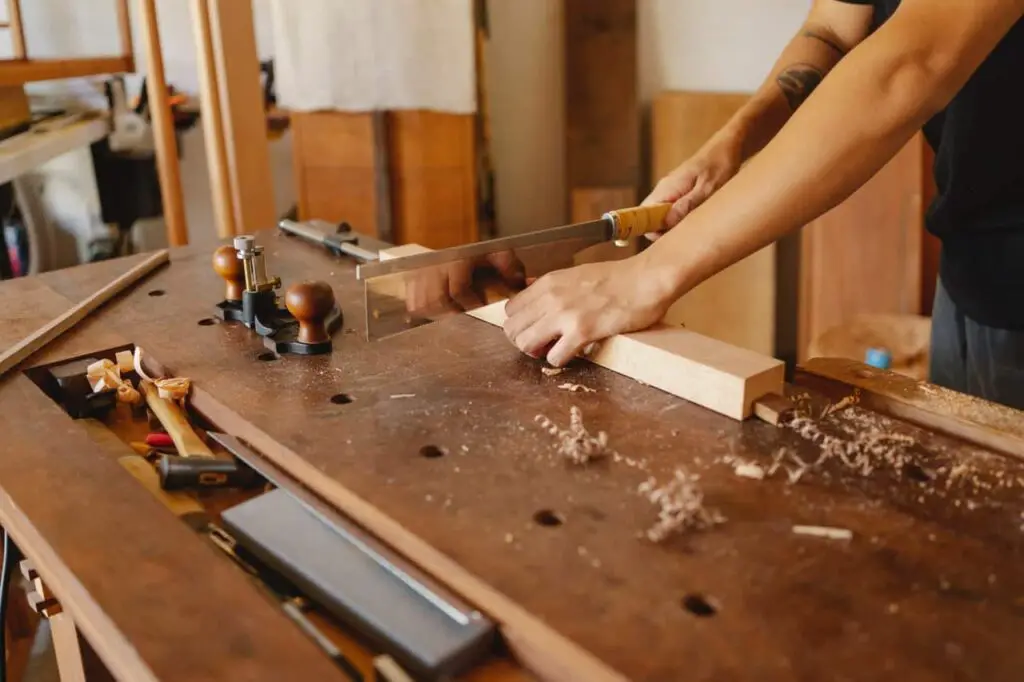 Tools for marking
First and foremost, you'll want a good set of general tools for marking. Marking allows you to make measurements and indicate the locations where you want to drill or cut:
A carpenter's pencil – This is a type of pencil used for markings on wood. It has a thick lead, which makes the mark thicker and easier to see on wood than the mark of an ordinary pencil.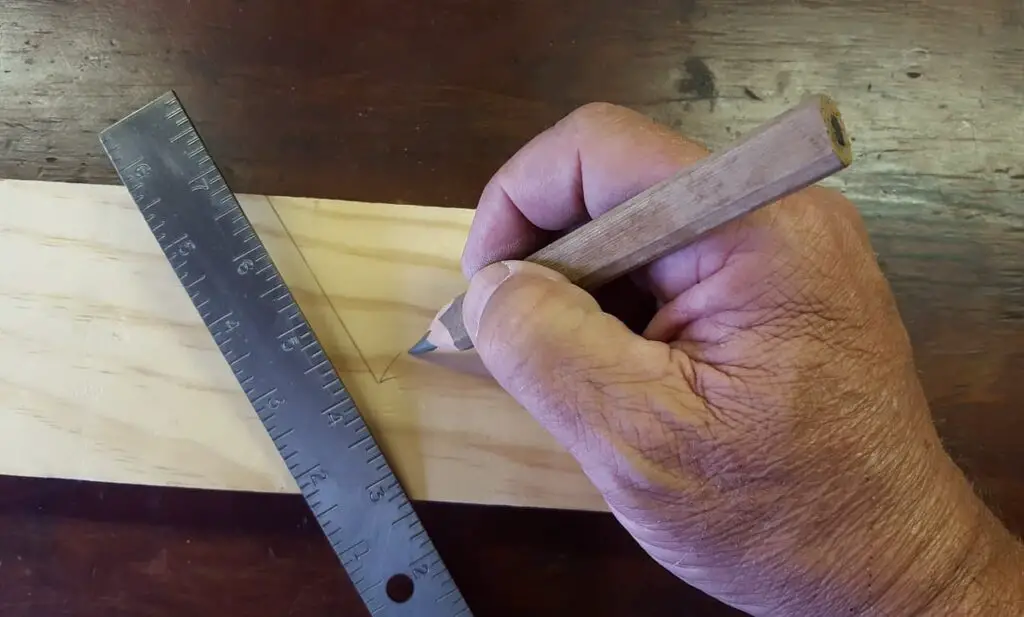 These pencils are flat, rather than round. This prevents them from rolling off hard surfaces such as rooftops and workbenches! I wrote another article about the importance of measurement.
Mechanical pencils – These are good for making fine lines or creating lines with specific measurements. They can also be used to mark things like dovetails and other joints where accurate spacing is important.
Ruler – You may not think of a ruler as a tool, but it's essential for measuring accurately. A long ruler (24 to 48 inches) is the best option for general use since you don't have to keep moving it from one spot to another. Avoid rulers with too much information printed on them—it can make it hard to see your measurement mark.
A tape measure – This is also handy; it works kind of like an extending ruler that you can lay across the board or beam you're working on.
A try square – This is a tool used in woodworking and construction to measure the squareness of a piece of wood. It also can be used to make marks perpendicular to the side of a piece of wood. The square's blade must be firmly attached to its handle for accuracy. The two sides of the tool should meet perfectly and at 90° angles. If not, it's not a true try square!
Clamps for holding things together
No matter what you're building, you'll eventually need something to hold parts together while they're being glued or attached. Clamps come in all shapes and sizes, and different projects require different kinds of clamps — some hold boards together with force, while others have specialized jaws that help secure round objects like dowels.
Clamps are great for when you're sanding, planing, or operating on a workpiece with a power tool. Clamps can also be used to hold things together while you're screwing them together or gluing them up.
There are many different types of clamps. They include the following:
C-clamp – This clamp has a basic design that you are probably familiar with if you have used clamps before. The C-clamp has a screw and a fixed bottom, and when tightened, the screw presses against whatever is being clamped. These clamps come in various sizes and can be used for a variety of applications. For example, C-clamps are sometimes used to hold workpieces together while they are glued, or to hold a piece of wood against a cutting surface while it is being cut by another machine.
F-clamp – The F-clamp looks much like a C-clamp but it has an extra bar that allows it to expand and contract, making it able to handle much larger pieces of material or cover more area.
Pipe Clamp – The pipe clamp works much like an F-clamp, but uses a threaded pipe instead of the extra bar. This makes them very versatile and easy to adjust, since you can use any length of pipe.
Whenever you modify the surface of a workpiece—whether it's through sanding, sawing, or drilling—you need the right kind of clamps to keep your work in place and prevent it from moving around or shaking. If you love DIY projects, chances are that you already own a few clamps. Clamps can be used when gluing wood, I wrote another article about the amount the time to let glue dry.
Hammers and Mallets
You might be thinking, "Hammers and mallets? Isn't that just one tool?" Actually, hammers and mallets are two different tools—and both can play a very important role in your woodworking:
A hammer is an essential tool for any workbench and can be used for everything from tapping pieces together to driving nails into place. Choose one with a grip that's comfortable and easy to hold. It should feel balanced in your hands and not too heavy or too light.
Sure, you could probably get by without a hammer. You could try to smash a nail into the wood with a rock or something. But wouldn't it be easier if you just had a hammer? Wouldn't it be better if you could use the right tool for the job?
Mallets are primarily used for pounding. Tools like chisels, dowels, and spikes often need to be driven into place with some force, but using a hammer would risk damaging the tool or your workpiece. A mallet's rubber or wood head will help distribute force evenly without damaging the tool or your work.
A good mallet is a must-have for any woodworker. You'll use it all the time!
Hammering with a mallet is a great way to safely complete a lot of woodworking projects. A mallet works great for hammering wood into place, especially when working on a project that you want to be able to disassemble and reassemble (like a puzzle), or when you don't want to leave marks from the hammer's head.
Other hand tools
Now that you've got your clamps, hammers, and mallets, it's time to start thinking about all the other hand tools you'll need for your workbench, and some of them may be extremely important, depending on what kind of projects you're working on:
Chisels – Chisels are used for removing excess material from woodworking projects. Many chisels come in sets, which include different sizes and types of chisels for specific tasks.
Woodworkers use chisels to remove excess material from their workpieces and shape the wood. Chisels are essential tools for woodworking because they allow you to create precise cuts that would be impossible with power tools or even hand saws. Chisel handles are made of wood, plastic, or metal and can be round, octagonal, or rectangular.
Screwdrivers – Screwdrivers are to woodworking what glue is to papercrafts: they're just the most important tool. You'll use them constantly, and they're the key to so many different techniques. They're not a good option if you need to drive a lot of screws quickly, but they'll have you covered for so many other tasks. I wrote another article about countersinking wood screws.
When you're shopping for your first screwdriver set, there are some key features to look out for:
A magnetized tip will help prevent you from dropping screws on the floor (and into your eyes).
A grip that's comfortable for long periods of use is also going to be important, as well as a handle that offers good control.
Last but not least, make sure it's the right size and shape for your work area!
The first thing you learn as a woodworker is to make sure you have the right tools for the job. A screwdriver is a crucial tool for just about every project. You'll need it when you're doing things like assembling furniture or cabinetry, or even building your own home. Different sizes of screws will require different types of screwdrivers, and if you've ever tried to drive a screw that's too small or too big for the project, you'll know what a frustrating experience it can be—a screwdriver is your best friend when it comes to making sure your woodworking projects come together perfectly.
Sandpaper or Steel Wool – Sandpaper or steel wool will help you get rid of scratches on your woodwork and smooth out rough edges before using other tools on them.
Rasp – This tool is a bit like an extremely coarse file. It's great for removing large amounts of wood and shaping things into curves or other shapes.
Wood Plane – This tool is used to plane down wood and take off any rough edges. It is also good for smoothing out cuts and for making beveled edges.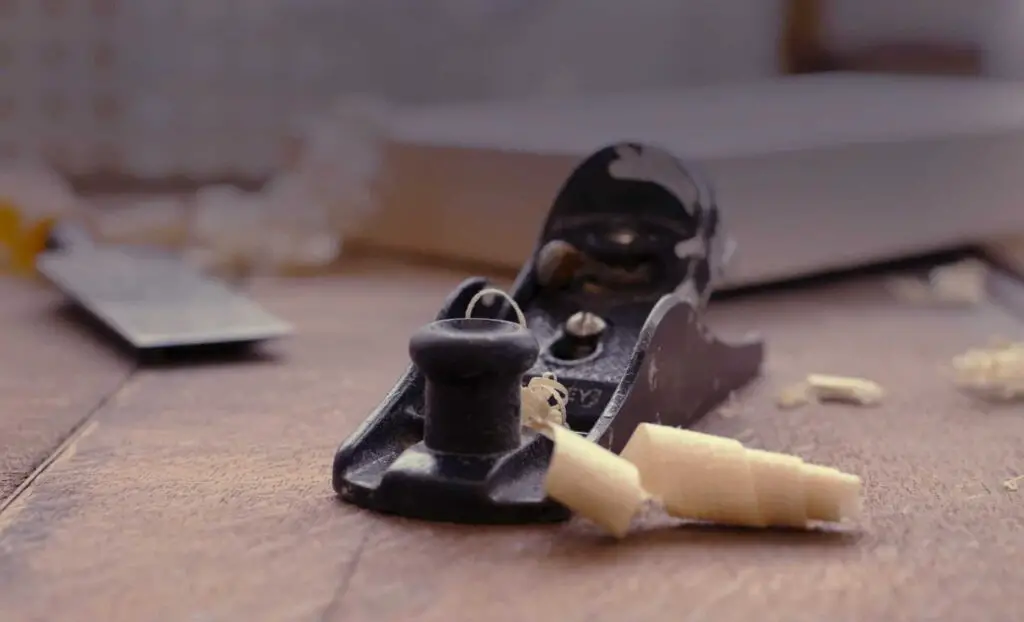 Level – A level is important, too. It will help you make sure everything is even and straight when building your workbench. Pick up a small one at any home improvement store in your area or use an app on your phone that does the same thing as a level would for you.
Nail set – This is one of those tools that people don't know they need until they try to drive a nail into something without one. Nail sets are used in conjunction with hammers to sink nails below the surface of the wood. You should have nail sets in two different sizes—one for small nails and one for larger ones.
Wrench set – Wrenches are perfect for tightening and loosening nuts and bolts, and there are so many different styles that you need to have several on hand.
Start with a basic set, which will be enough to get you through most projects. You can always add more as you go along.
Pliers – Pliers are a great tool. They can crimp, cut, and crush things. You can use them to twist wires together. They can be used to pick up things that are too hot for your fingers. And of course, they can help you grip things that are slippery or small.
There are a bunch of different kinds of pliers: needle-nose, slip-joint, locking, diagonal cutting pliers (also called side cutters), and many others!
Scissors – Scissors are almost always a must for any crafty project, and woodworking projects are no exception. You can use them to cut fabric, paper, and even thin strips of wood into neat, straight lines that are difficult to make with just a knife. This is particularly important if you're building smaller items that require precision measurements, such as picture frames or bookshelves.
Most woodworkers prefer the more ergonomic bent-handled style of scissors to the standard straight-handled scissors. In addition to the comfort they provide, bent-handled scissors allow you to see what you're cutting without having to bend down or otherwise contort yourself into an awkward position.
Woodworkers should also look for left-handed scissors if they are left-handed!
Utility knife – A woodworking shop without a utility knife? That's like a kitchen without salt!
That's right, a utility knife is one of the most versatile tools in any woodworking shop. From cutting through plastic packaging to slicing into leather, you're going to want to have a utility knife on hand at all times.
Utility knives can be used for a variety of projects. You can use them to cut through materials that wouldn't normally be cut by power tools or scissors. Plus, they're small enough that they don't take up much space in your workbench!
Portable power tools
Electric drill
When we think about workbenches, we often think about hammers, saws, and chisels. But a great workbench also needs power tools to tackle the more challenging tasks. One of the most important tools for your workbench is an electric drill. The right drill will help you get precise results and make your DIY projects as easy as possible.
To choose the right electric drill for your workbench, you should consider:
Variable speed – This will let you control how fast or slow you need your drill to run.
Reversible – This will let you easily change the direction of rotation.
Drill accessories – If you want to use your electric drill for more than just drilling holes and driving screws, then accessories are a must-have. These can include things like paint stirrers (It's important to start the drill at a slow speed for this accessory. So, it's important to have a variable-speed drill for this), pilot hole bits, plug cutting bits, grinders, sanding drums, etc. I wrote another article about drill accessories.
Think about what kinds of accessories you'll need. Are there any special bits? Is a case included? Or, will you have to buy those separately? If so, how much will they cost?
Chuck size – You can choose from different sizes depending on the needs of your project.
Finally, think about your budget and the features you need in an electric drill. Do you plan on drilling large holes? What kind of material will you be working with? Do you want to sand or buff with your drill? Do you prefer one-handed operation? Once you've considered these questions, buy the right drill for YOU.
Jigsaw
A jigsaw is a handheld tool that makes precise cuts in wood, plastic, and metal. They are most often used to make curved cuts in wood, but they can also be used to cut straight lines. Jigsaws come in several different varieties, including corded and cordless varieties.
A jigsaw is a great way to cut wood in the shape you want. There are lots of different jigsaws available. Each one has different features, so it's important to choose one that is right for you. Here are some of the most important features:
Bevel adjustment – This tool allows you to adjust the angle of your saw blade, which makes it easier to make precise angled cuts.
Orbital action – This allows the blade to move in a back-and-forth motion as it cuts. This allows you to finish your cut faster. However, it can also leave a rougher cut.
Laser guide – This makes it easier to see where the blade is going, so you're less likely to make mistakes.
Ergonomic handle – You'll be using this tool quite a bit, so get one with a handle that feels good in your hand.
Blower – A blower that clears away dust will help you see where you're cutting more easily. It's also safer, because you won't accidentally cut something you can't see.
Dust extraction port – Hooking up your jigsaw to a shop vac will reduce cleanup time and help keep your workshop tidy.
While not every project requires precision cuts along curves or intricate shapes, many people find themselves using their jigsaw more often than they might think. If you're building a birdhouse or creating wooden toys this is an invaluable tool for your workbench. I wrote another article with Jigsaw Tips.
Circular saw
Whether you're a woodworking hobbyist or a professional carpenter, a circular saw is a must-have tool for your workbench.
A circular saw is an electric power tool that can cut through wood, metal, and other materials using a circular blade. You can use it to cut lumber for your next project. Whether you're building a deck or cutting a 2 x 4, the circular saw is one of the most versatile tools in your arsenal.
When you're shopping for a circular saw, look for one with a powerful motor that can withstand heavy use. Make sure the blade is easy to adjust and change so you can get right back to work when it gets dull. And look for an ergonomic handle and lightweight design so you can maneuver with precision.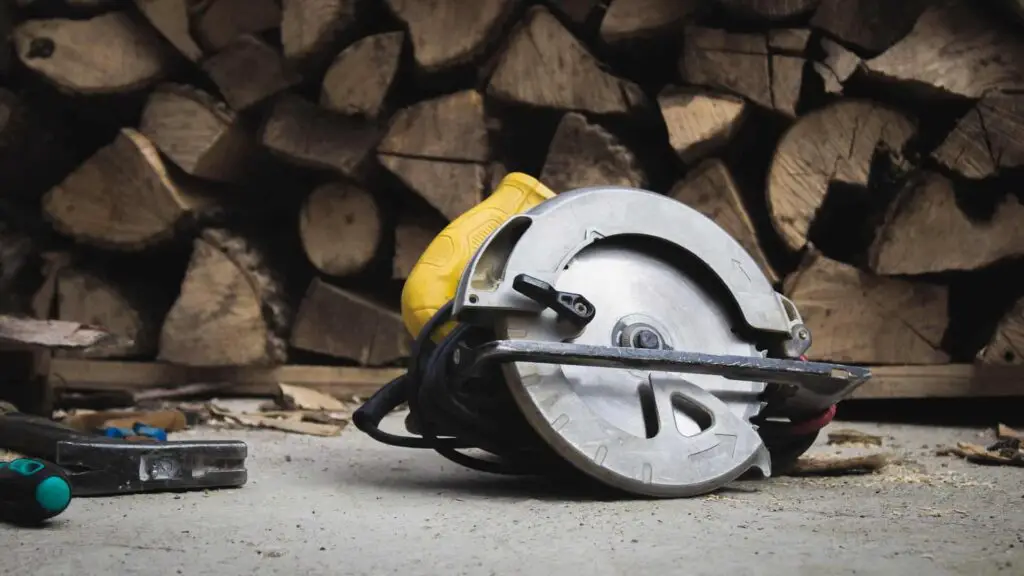 Router
If you're serious about woodworking, you'll need the right tools. One of the most important tools for any woodworker is a router. A router is a small power tool with a spinning bit on one end that you can use to create grooves, dadoes, dovetails, mortises, and other cuts.
Routers are a great way to add a little texture and decoration to your projects. Whether you're building something out of scrap wood, or customizing a piece of furniture you bought at IKEA, a router can help you complete your project.
Sander
A sander will help you get the smoothest finish possible on your project. Sanders come in many shapes and sizes, and are great for smoothing out surfaces before painting or varnishing:
Palm sander – The palm sander is one of the smallest sanders, and can be held easily in one hand. It's great for small spaces, and for getting in corners or around edges where other sanders simply don't fit.
Random orbital sander – It's a very popular choice for woodworkers and ideal for general use. A random orbital sander will help you get the job done quickly, efficiently, and with great results. The machine is designed to be lightweight and easy to maneuver so that you can get your work done easily.
Belt sander – Belt sanders are particularly useful for removing paint from wood or leveling out large surfaces, such as floors. They come in a variety of shapes and sizes, but the basic principle is the same: a belt runs over two rollers, which provides the movement of the belt. I wrote another article about fixing sanding mistakes.
Final Words: What Tools Do I Need For My Workbench?
At the end of the day, it's up to you! The right tools depend on your needs, and what you do. The tools we've outlined here are just some of the most basic tools needed for woodworking. From there, you can make your way to more advanced tools as you learn what you need and discover new projects that require different ones.
You can also keep it simple! A workbench is a great place to store your tools. The next time you're starting a project or want to get into woodworking, take stock of what you have, and see if any of these tried-and-true, timeless tools could help make your project easier or more enjoyable.
Did you enjoy reading this article? If so, you might also like my Pinterest profile. It contains pins about Woodworking, Tools, Projects, DIY & Crafts, and other topics!