The electric drill is one of the most versatile tools and can do much more than just drill holes. So,  how can drill accessories increase your productivity?
First, let's define what we are referring to when we talk about productivity in the context of woodworking. Here's a good definition of the term:
The effectiveness of productive effort, especially in industry, as measured in terms of the rate of output per unit of input

Lexico online dictionary powered by Oxford
We will show that drill accessories do increase the effectiveness of productive effort.  They definitely allow you to take less time to perform particular tasks. Also, with the power of the drill motor, you will be able to do things that could not be done before by hand.
In the examples and text that follows, it is assumed that we will be using a variable speed, reversible drill. First, these are very common and you can get them almost anywhere: Department stores, Hardware stores, and even Online. Usually, the speed is controlled by a hand trigger. You can start from a complete stop (or zero rotational speed) and go to the full speed of the drill (This could be 2,5000 RPM or so).
Also, reversible drills allow the bit to spin clockwise, as well as counterclockwise. This can "come in handy" when you need to attach a screwdriver bit to the drill. When it is clockwise, the drill will tighten screws with normal threads. However, when it is reversed, the drill will loosen the screw.
1. Drill Bit
The first accessory I am considering is the drill bit. Strictly speaking, bits are not really accessories since drills need bits to work. That is, they are part of the drill. However, there are many different types of drill bits. Thay all allow the drill to do different things and perform in different ways. So, they also fall into the category of an accessory here.
Standard wood bit – This is the type of drill bit you normally associate with the drill. You use it to drill a normal hole. It helps to start at a slow speed and then increase the speed.
Brad-point wood bit – This is similar to the ordinary bit. However, a small "point" near they top assists you "centering" the hole and making sure it is exactly where you want it.
Screwdriver bit – This allows you to use the drill to screw in a screw, or remove it (with a reversible drill).  However, you might need even more "help" to screw in stubborn or very "tight" screws. Consider using something like a hand brace and screwdriver bit, to get the extra "leverage" you need. Also, you might consider drilling a pilot hole for the screw.
Nut driver bit – This is similar to the screwdriver bit, and allows you to turn screws with a nut head of the proper size.
Countersink bit – This allows you to drill an inverted cone type shape, like the head of a wood screw.  This allows the screw to be tightened flush to the wood surface.
Wood screw pilot hole bit – This drills a hole for a wood screw, and allows it to be screwed below the wood surface. Then, the top of the hole is "covered up" by a wood plug (see Productivity Option #14, Plug Cutter). Another alternative to a plug is a wooden dowel piece. This can be cut off with a coping saw and then sanded flush to the wood surface. You might want to make sure that the pilot hole is actually big enough, and the screw will turn without too much effort. This is even more of a factor if the hole is in a hardwood.
Spade bit – This allows you to drill a large, flat-bottomed hole. It is quick. However, you might roughen the backside of the hole. As a result, it is not the preferred choice of bit for furniture making.
Forstner bit – This is also used to drill a large, flat-bottomed hole. The back is much neater than with the spade bit and this type is preferred one for furniture making.
Step drill bit – This is used for drilling holes of various sizes, depending on how far the bit is pushed in.
Magnetized screw bit – This allows you to hold objects, such as screws, nails, etc.
I wrote another article asking if drill bits were interchangeable between brands.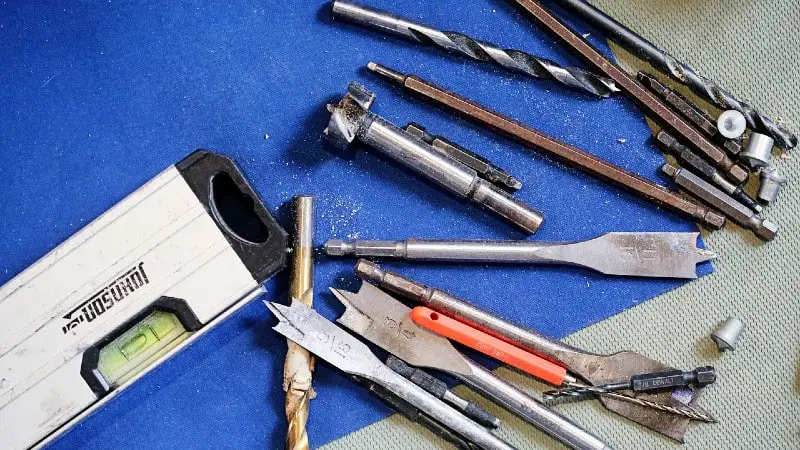 2. Paint Stirrer
We all know how time-consuming the task of paint stirring can be. Why not allow the electric drill to take care of that?
This is really a case where a variable speed drill is important. If you just started the paint stirrer out at full drill speed, you would wind up with the paint all over the room!
You need to start from zero and gradually increase the speed, to the speed you actually need. Once you try stirring paint with a drill, you will never want to go back to the "old way" of doing it.
3. Pump
You can actually use a drill to turn a pump. All sorts of liquids, such as water and also oil, can be pumped with this attachment.
There is almost no limit to the uses for such a device: You can pump water from an outdoor fish pond, you can empty water in a basement, due to a flood, you can drain water from a boat. Another use has to do with car repair: You can pump out oils and other fluids with ease. Then, of course, it can be used with RVs and trailers in order to pump water.
Also, pumps like this are typically "self-priming". This is a real timesaver and contributes to the usefulness of the device.
4. Drill at Right Angles
We've all been there. There are times when we need to turn a screw, nut, fastener, or drill a hole at right angles to the drill itself. There just isn't enough room. As a result, you enter into a very tedious and time-consuming procedure. Somehow, you need to tighten the screw, even if you must do it with your fingers! When you attack a screw without using the proper tools, you might end up ruining the head.  So, is there a better way?
Actually, there are times when a right angle adapter is all you need and can be a great lifesaver. It can save time, add to the quality of your work,  and also make the work more satisfying and enjoyable.
5. Flexible Drill Shaft
Sometimes, drilling at right angles (See Productivity Option # 4) is not enough. Often you need to get into a small place and can not do it with your bit. A flexible drill shaft will allow you to deal with more situations and also serves to extend the drill bit.
This can be used as a screwdriver for tight places. You can remove screws from those tight places as well. This is often a good reason to obtain a flexible drill shaft for your drill.
6. Sanding Drum or Pad
A Sanding drum or pad can also be attached to the drill. You no longer have to sand by hand, you can use the power of the drill motor to help you!
Actually, the drum is very good for sanding some sort of scallop, such as one cut by a saber saw. A saw like that will leave a rough edge to the wood, and you need to remove it if the piece is to be used in furniture.
One approach is to use a wood file for this. However, this is really time-consuming. Another approach is to use the sanding drum. If you push it into the wood with too much force, the sandpaper will get "loaded up" with sawdust. If this happens, you may need to brush it off by hand.
Also, the drum may not "fit" into all parts of the curve. For these sections, you may need to use the wood file and sandpaper.
A round pad can also be used. However, you need to be careful. It may be good for removing a lot of wood. However, it should not be used for final sanding before wood finishing and staining. That is because the pad will leave all sorts of circular "scratch marks". They might not be visible when you look down at the wood. However, any wood stain will "bring them out" and make them quite visible. To avoid this sort of situation, you need to sand the "pad" areas by hand. Make sure you move back and forth "in the direction of the wood grain". The idea is to sand enough of the wood so that the marks are actually removed. I wrote another article about using an electric drill as a sander.
7. Rotary Rasp or File
The rotary rasp can be much like a kitchen shredder! When you spin it around with the drill, you shred the piece of wood and can smooth it in that way. You can also "shape" the wood.
The file attachment can be much like a hand file (However, it will have a cylindrical shape). You can also "shape" the wood with this and need to avoid removing too much wood.
After working with any of these, you may need to sand by hand. This allows you to remove any marks put on the wood and also make the wood much smoother.
8. Grinding Wheel
The drill can actually be used to turn a Grinding Wheel. This allows you to sharpen drill bits or other tools such as chisels.
You should definitely wear eye protection when using Grinding Wheels, even ones attached to drills.  This is because small pieces of metal can be thrown off and end up near the eye.
9. Polishing Wheel or Pad
This can be very handy, particularly when a variable speed drill is used. That is because it is often better to start the wheel at low speed. You do not want to take off too much material at once.
Polishing an item by hand can be time-consuming and tiring. This is a much faster way of doing it!
10. Portable Drill Press Stand
This is really a great attachment. It allows the portable drill to serve as a Drill Press. This is a tool that lowers the rotating drill down towards the wood as you turn a wheel or lever.
By doing this, you are able to control the exact angle of the drill bit with respect to the wood. Most of the time, you leave it at 90 degrees. So, you need not be concerned with "shaky hands" when you drill. The hole is always made at the exact angle you specify.
As a matter of fact, you can put in a sanding drill attachment in place of a drill bit and lock the bit down into a lowered position. In this way, you can hold a piece of wood in your hand and have fine control over sanding.
11. Dowling Jig
This accessory for a drill is really needed if you are planning on gluing boards together. To prepare the boards, you might need a jointer-planer in order to square up the edges and make them entirely flat.
In most cases, you add strength to your glued joint by drilling holes and using dowl pegs to hold the boards together.
Trying to drill the holes by hand is a hopeless exercise. You never end up making them exactly 90 degrees to the boards. Also, the holes never line up and are not drilled an equal distance from both faces of the board.
The Dowling Jig helps you with this and allows you to make perfect holes for the dowel pegs.
12. Brush for Cleaning
You can also use the drill to help you brush and clean.
First, this can be used for general cleaning. It is certainly less tiring then it would be to scrub and brush by hand.
Also, it can be used to scrub the inside of a bottle. Attachments for this usually have a long extension, for getting into the bottle. You need to make sure that you do not break the glass as you are cleaning.
In addition, you can use brush attachments when cleaning the bathroom or sink. You need to make sure that you are not scratching the surface, and also not too taking off too much.
13. Garden / Weed – Dig Hole with Drill
How about using a drill to assist with garden weeds or actually drill a hole in the dirt? That is also possible. You need to make sure that the drill has a variable speed feature or you will end up removing too much dirt at once.
14. Plug Cutter
This is a really great attachment. Pilot holes for wood screws are generally "countersunk". That is, the screws get tightened below the surface of the wood. I wrote another article giving reasons why you should countersink wood screws.
So, that leaves an unsightly "hole" above the screw. What do you do about this?
One possibility is to use the plug cutter attachment to drill plugs in pieces of scrap wood.  A flat blade screwdriver or similar tool can then be used to "chip out" the plug and remove it from the scrap wood.
You then add glue to the plug and put it into the screw hole. You can use a wet rag to remove any glue that seeps out. Then, you need to sand it flush to the surface of the wood after the glue has dried.
Conclusion: 14 Ways Drill Accessories Can Increase Your Productivity
As we have seen, productivity is greatly increased by these things.
I will add a note of caution here: Please make sure that the entire attachment is not "flimsy" and does not shake. Increase the speed gradually and make sure that all things are secure. Even though drills are regarded as safe tools for the beginner, attachments can make the tool more dangerous.
Did you like this article? If so, you might be interested in my boards on Pinterest.
Does anyone have any other uses for drill accessories: either one mentioned here or another one not mentioned? How did it save time for you? Please feel free to leave a comment in the section below. We all appreciate your input!