If you're looking to spend more time outside and less time mowing the lawn, a deck is the perfect place to host all your friends and family. A deck also provides an opportunity for you to show off your woodworking skills as well as how creative you are. Check out these 10 deck decorating ideas, both easy and DIYable, that will make your backyard a more fun place to spend some time while having a cookout or hanging out with friends.
When it comes to decorating your deck, you don't have to spend a lot of money
Whether you're a DIYer or new to woodworking, there are plenty of affordable ways to decorate your deck. You don't have to spend a lot of money—or hire professionals—to make your deck look great.
Here are some ideas:
Use items that you already have around the house or yard. For example, if you have old flower pots and planters, hang them from hooks on the wall of your deck for extra storage space and decor. If not, check out thrift shops for inexpensive pots and planters that will work well on a deck.
Purchase inexpensive items from craft stores such as Hobby Lobby or JoAnn Fabrics. In addition to finding interesting decorations like lanterns and flags at these stores, they also sell glassware like mason jars for storing flowers and other plants!
You can purchase items online that can be used to decorate your deck, like wooden ornaments and knick-knacks.
You can make decorative items for your deck. For example, cut popsicle sticks into small pieces and glue them together to create a mosaic pattern. Or, paint various shapes onto plywood boards—like circles, squares and triangles—to hang from your deck.
Table of Contents
#1. Add throw pillows – Deck decorating ideas
Throw pillows are an inexpensive way to add some pizzazz to your deck. They can be as simple or as elaborate as you want them to be and they're great for making small spaces feel bigger.
To make a pillow, measure the size you need and cut the fabric to fit. If you're using a sewing machine, sew it together with the machine. If you're sewing by hand, use a needle and thread to stitch the edges together.
If you love bright colors, try using a rainbow of colors on your pillows. If you're going for something more muted, choose white or gray as your base color, and then incorporate a few pops of color like blue or red into the mix.
You can also pick a pattern that reflects your personality. Stripes are a great option for those who want something simple and classic, while florals work well if you're looking to make more of a statement. If you're going to use a lot of fabrics on your pillows, try mixing different patterns together. For example, pair polka dots with stripes or floral prints with plaids.
If you don't have time to make your own throw pillows, you can buy a few at the store. When shopping for one, consider how it will look in the space where you plan on using it. You should also think about what type of material would be best suited for that particular area of your home (for example, if you want something soft and comfortable to sit on).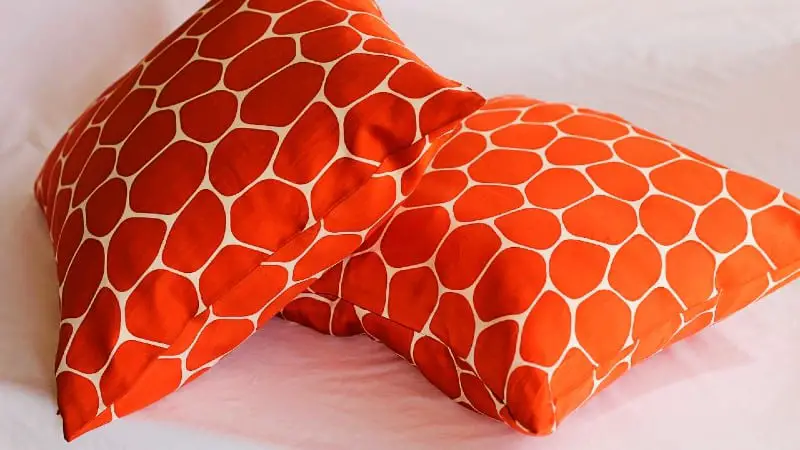 #2. Turn a pallet into wall art for your deck
Pallets are a great way to add a little personality to your deck. You can paint them to match the color scheme of your deck, or you can add some color and decoration by mounting flowers or other items on top.
Some of the best pallets have been used for transporting furniture – usually, they are in good condition. Make sure the pallet is able to withstand weather, sun, and rain before you decide where to mount it on your deck.
Once you've found the right pallet, all you have to do is paint it in a color that matches your deck's color scheme. You can also add a touch of color by adding flowers or other decorations to it. Once you've painted it, mount it on the wall where you want it!
When you're done, take a look at it and see if it works for you. You may need to adjust the size of your pallet or add some flowers or other decorations.
Finding the perfect pallet for your deck can be a challenge. It's not easy to find them, especially if you live in an urban area. Sometimes, you can find them at furniture stores, hardware stores, or construction sites. Often, you can get them through Craigslist for free. To learn more about pallets, and how to use them for DIY projects, visit another article I wrote.
#3. Make inexpensive "throw rugs" out of outdoor carpet remnants
If you're looking for a way to give your deck a fresh new look without breaking the bank, consider making inexpensive "throw rugs" out of outdoor carpet remnants. We've found that these are especially useful around the perimeter of your deck, because this is where people tend to walk most often and it will protect their feet from hot wood or sharp objects beneath it.
This is also a great way to add color and texture if you're looking for something more interesting than plain wood or concrete. It's also a good way to add color if you have a wood deck that's been stained one color and want something different without repainting or staining all over again!
Don't worry about your rug getting dirty. These are outdoor carpet remnants, so they're already built to withstand the elements. And if you're worried about the way it looks, don't be! You can always try different colors and patterns to make it look like a whole new rug!
It's also important to remember that these rugs are not just for decks, but can be used anywhere you need a soft surface underfoot. For example, if you have children and want them to play on a carpeted area instead of hardwood floors or tile floors in the living room, then placing these rugs down will be just fine!
These rugs are an excellent way to liven up a deck that has been neglected for years. If you don't have much money but still want some color in your outdoor space, consider using them! You'll be surprised at how much more useable your deck becomes!
#4. Bring some color and life to your deck by growing plants in pots
If you're looking to add some color and life to your deck, think about using plants in pots. They're easy to move around, and they're easy to maintain.
Choose plants that attract butterflies or birds, like Coneflower (Echinacea), Blue Star (Amsonia hubrichtii), and Sunflower (Helianthus annuus). If you have hummingbirds in the area, choose flowers with bright colors that attract them, such as Red Hibiscus (Hibiscus rosa-sinensis) or Coral Bells (Heuchera americana). How is a hummingbird like an electric sander? To find out, visit an article I wrote about sanding mistakes.
In addition to choosing the right plant for your space, it's also important that the plant itself is easy-to-maintain. This means that whatever type of plant you choose should be able to thrive in the conditions outside on your deck without needing too much care from you. For example: if you live in an area where there is frequent rain or humidity then it may not be safe for some types of plants because they are susceptible to rotting or molding if their roots get too wet.
If you hang up any potted plants make sure they are secured first so they don't fall over when being moved around or blown by windy conditions outside!
There's nothing better than having a relaxing evening on your deck after spending all day working hard. So go ahead, invite friends over and make it an outdoor party! Plant some flowers in pots near the entrance or put up string lights around the railing of your porch so guests feel welcome as soon as they walk through.
#5. Create a focal point with a tree planter.
If you're looking to add some greenery to your deck, a tree planter could be the perfect solution. It's a great way to add natural beauty and style while also providing shade and privacy.
When planting a tree in a container, try choosing one with roots that are suited for smaller spaces. Evergreens like fir or cypress are good choices because they require little attention once established (depending on the climate). Placing these types of trees close together will provide plenty of privacy for neighbors and passersby alike!
You'll want to water your plants regularly, depending on the climate, but don't go overboard – too much water can lead to root rot.
You can position a tree planter anywhere on the deck or patio, but it's probably best to keep it close to where you'll be spending most of your time. This way you'll be able to keep a close eye on your tree and water it if needed.
If you have a small area with limited space, consider planting smaller plants like ivy or ferns instead of trees. These can still provide greenery without taking up as much room!
By adding a few carefully placed focal points, you can make your deck space visually interesting. Tree planters are a great way to do that! Some popular container materials include old tire rims (painted or unpainted) or recycled furniture pieces such as dresser drawers. However, any box with holes drilled into the bottom of it will work.
#6. Hang wind chimes and string lights up to add ambiance
Your deck is a great place for some relaxing time with friends and family, but it can also be a great place to get creative and add some DIY touches. Adding some simple decorations like wind chimes and string lights can really make your space stand out.
You can buy wind chimes at any craft store, but if you're feeling ambitious, why not make them yourself? It's easy – just gather some old bottles or jars from around the house (or pick up a few at your local thrift store), cut bamboo rods, and attach them together with fishing line or hemp twine. Wind them up tight and voila—you've got yourself some homemade wind chimes! A jigsaw can help with your DIY projects. I wrote an article with 31 tips for the jigsaw.
Not only are wind chimes easy and fun to make, but they can also help create a relaxing ambiance in your outdoor space. The soft tinkle of the chimes will remind you of summertime afternoons spent lounging around with a book or taking an afternoon nap. And when night falls, the string lights will add a touch of magic to your backyard oasis. So what are you waiting for? Get creative and start decorating your own backyard retreat today!
#7. Hang some potted plants from the ceiling.
You can hang a bunch of plants from the ceiling (via sturdy brackets, hooks or other hardware) to add color and life to your deck. Do be sure to check the load-bearing capacity of your roof before deciding on a planter size, however.
A hanging pot garden works well for adding some green without taking up too much space on your deck, and you can mix things up by placing them at different heights for visual interest.
Be mindful that if you're hanging potted plants off the railing, someone might knock them over if they get too close—so it's best to keep them away from this area! Also, make sure they aren't close enough to heat sources that may dry out their soil or cause them damage in any other way.
#8. Put some old chairs and tables on the deck and update them with paint.
There are many old chairs and tables in your family's home that can be painted to give them new life. It's important not to use too much paint, as you want it to dry quickly so you don't get a sticky mess on your chairs. Apply a second coat after the first is completely dry
Sand any rough areas on your old chairs or tables before painting. Use a paintbrush to get into all the nooks and crannies of your furniture and be sure not to miss anything. This will ensure that every part is covered with paint and looks clean. Use drop cloths to protect floors (or decks), furniture, and other items around your deck from getting splattered with paint.
If you're looking for an easy way to spruce up your deck space and give it a fresh new look, why not start painting? Paint can be intimidating if you don't know what you're doing, but with some simple tips like these, you'll be on your way to painting like a pro in no time at all! I wrote an article about painting a freestanding coat rack.
#9. Decorate your deck railing with jars full of flowers or floating candles.
You can also decorate your deck railings by using jars as planters or candle holders. Jars are great for this because they're inexpensive, easy to find, and easy to clean up when you're done. You can fill them with flowers or floating candles to add some light and ambiance to your outdoor space without having the worry of electricity or cords running across the decking.
To decorate your deck railing with jars full of flowers, first decide what type you'd like to use. Annuals bloom throughout the season while perennials come back every year and don't need much maintenance after planting. If you're looking for something more permanent than annuals, consider planting perennials like daisies or hibiscus plants that have beautiful blooms all summer long!
Floating candles are great for deck railing decorations. You can buy them at your local craft store, and put them in mason jars or clear vases, then mount them on the railing.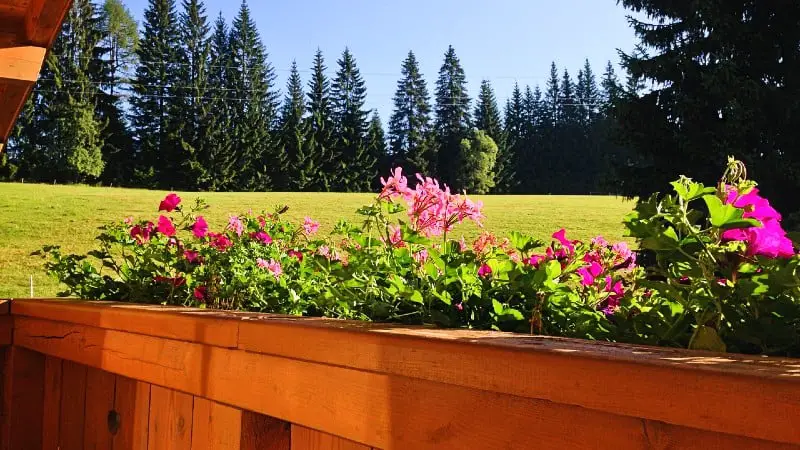 #10. Light some lanterns and place them around your deck for nighttime lighting.
Light some lanterns and place them around your deck for nighttime lighting. Lanterns are the perfect way to add an inviting ambiance to your deck, whether you want a romantic glow or something more playful. Lanterns come in many shapes and sizes, so it's easy to find one that fits your style:
Candle Lanterns
These are the classic lanterns that come in many shapes and sizes. You can find them made out of metal, glass, or even paper.
Solar Lanterns
These are a great option if you want to avoid candles or don't have an outlet nearby. They come in many different styles, including some that look like traditional candle lanterns.
LED Lanterns
LED lanterns are becoming more popular because they use less energy than traditional bulbs and last longer. Many of them also have fun features like color-changing lights.
Propane Lanterns
If you want a lantern that emits more light, propane lanterns are a good option. They can produce quite a bit of heat, so be sure to keep them away from flammable materials.
Woodworking can be very stressful. I wrote another article with tips to help with this.
Your deck doesn't have to be boring!
If you're like most people, you spend a good amount of time in your backyard. Whether you're entertaining guests, relaxing with friends and family, or just enjoying some time outside–your deck should be a place where you can enjoy yourself!
There are plenty of ways to liven up an otherwise boring deck:
Have some fun with it! If you're going to be spending time in your backyard, why not make it a space where you really enjoy being?
Be efficient. You don't need a lot of fancy materials or tools to create an amazing deck; most of them can be done with basic woodworking skills and a bit of creativity.
Make your deck an inviting place. Add some nice furniture, decorations, plants, and flowers to make your backyard more visually appealing from the inside out!
Conclusion
Well, there you have it, our 10 creative ideas for deck decoration! Hopefully, at least one of them will appeal to your style and be the perfect project to get you started on improving your outdoor living space. We've shown how easy it is to update and enhance any deck. Now all that's left is to get out there, grab some tools (and maybe a friend), and start creating the backyard paradise you deserve.
Did you enjoy reading this post? If so, you might like to visit our Pinterest profile. It contains pins about Woodworking, Tools, Projects, Hardware, DIY & Crafting, Home Decor, and other topics!