Maybe you're new to woodworking, and you're not sure if you need a drill to hang curtains. Or maybe you already have a drill and are looking for some tips on how to use it properly. Either way, this post is for you.
But first, let's answer the question: Do I need a drill to hang curtains?
No, you don't need a drill to hang curtains. You can avoid making holes in the wall by using tension curtain rods, adhesives, magnets, or similar mountings. However, these approaches can lead to flimsy installations. The choice of method depends on the needs of the user and personal tastes.
Hanging curtains is a huge part of building a home. It's also a great way to personalize your space without breaking the bank on custom furniture or curtains. But if you've never done any woodworking or DIY projects before, it can be tricky to figure out what tools you need and how best to hang curtains without damaging your walls. Let's look into this situation in more detail:
Table of Contents
How can you hang curtains without a drill?
There are many reasons why you might want to hang curtains without a drill. For example, if you're renting your apartment or home and don't want to make holes in the wall, then hanging curtains without a drill is probably the way to go.
If you're new to woodworking, then you may not know how to use a drill. If that's the case, this article will show you some easy ways to hang curtains without one:
Note: This post may contain affiliate links. If you purchase a product through an affiliate link, I'll earn a commission, at no cost to you. To find out more, see my full disclosure.
Tension curtain rod
You can easily hang your shower curtain without using a drill by using a tension rod. This type of curtain rod uses tension rather than nails or screws to hold up the curtains, and it works well with lightweight curtains but may slip out of place if they're too heavy. Check out one!
Adhesives
Adhesives are another option for those who don't want to use power tools but still want the ability to move their curtains around later on down the road when decorating needs change. These are good for smooth walls and surfaces such as tile. See an adhesive curtain bracket on Amazon.
Magnets
Next up: magnets! Magnets are great because they're super strong and they don't require any installation at all. The drawback is that the surface must be made of iron, steel, or a material that magnets will stick to. So, metal doors or appliances are OK. Here's an example of a magnetic curtain rod on Amazon.
Suction cups
These are good for temporary or portable installations where the suction cups attach to the smooth surface of the window itself. See a suction curtain here.
Hook and loop fasteners
If you're new to woodworking and don't want to buy a drill, or if you're just looking for an alternative way of hanging curtains, try using Velcro. You can stick it on the back of your curtain and also on the wall. The Velcro will keep the curtain in place until you decide to take it down again. It's a great way to get around drilling holes into walls. Here's an example of a curtain using a hook and loop fastener.
Double-sided tape
To attach the curtain, apply double-sided tape to the wall and then stick your curtain rod bracket onto it. The tape will hold it up for quite some time, and you can easily remove it when you're ready for a change. Here's some double-sided tape on Amazon.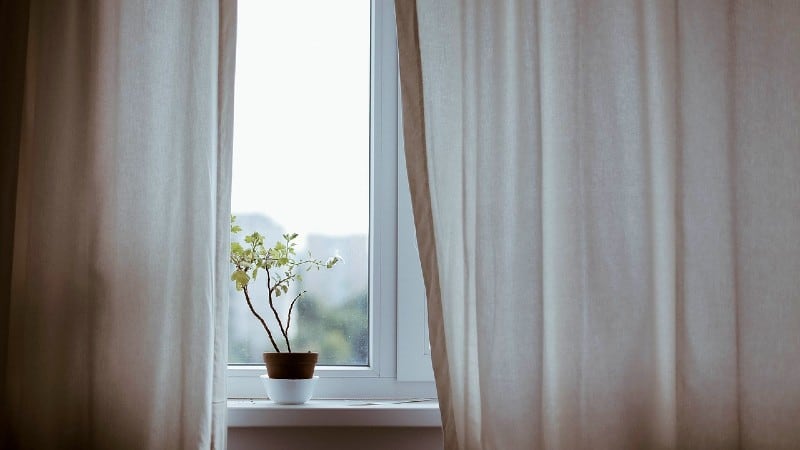 Why you might want to drill holes for the curtain rod brackets
There are many reasons you might want to drill holes for your curtain rods:
#1. First of all, it makes the installation more secure and long-lasting. It will also prevent your curtains from falling down when you try to draw them.
#2. Using a drill when hanging heavy curtain rods will make it easier to both exert enough force and position the rod correctly.
#3. You're a DIYer who wants to save money by using your own tools and supplies instead of paying someone else to do it for you!
Even though holes may seem permanent, they really aren't—you can just fill them with spackle and repaint!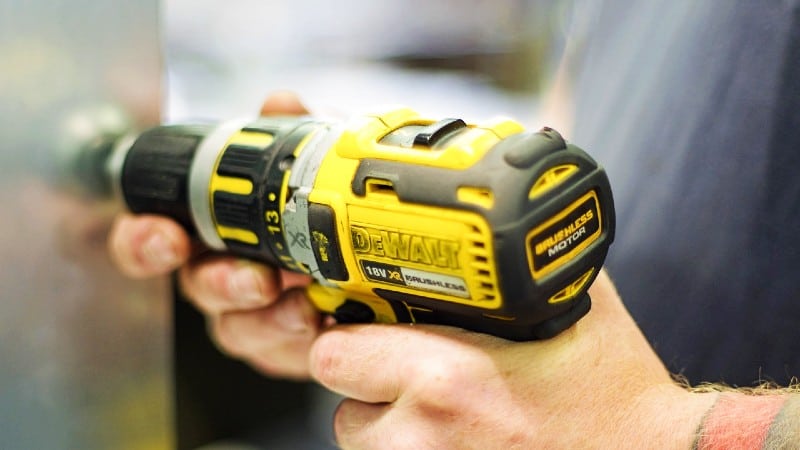 How to install a screw-mount curtain rod
Screw-mount curtain rods are a good choice for hanging curtains. Their brackets make installation simple and they're easy to work with—even if you're new to woodworking!
Step 1. Measure and mark where your curtain rod will go
You don't need to be a professional carpenter to drill holes for curtain rod brackets. If you want to save money by doing it yourself, here are some tips for measuring and marking:
#1. Decide where you want the curtain rod to go. The location you choose for the curtain rod may depend on the size of the window, the length of the window, and personal tastes.
#2. Mark where your curtain rod will go. You may want to use a laser level to help you mark the location of the curtain rod.
#3. You may want to use a stud finder to see if you can place the brackets over wall studs.
You might want to use wall studs instead of drywall when hanging curtains for two reasons: strength and stability. Screwing brackets into studs provides more support than screwing into drywall alone (the solid wood gives the screws a better grip).
If you can't put the brackets over wall studs, you need to use drywall anchors or some other type of hardware.
Step 2. Drill holes for the brackets
Hanging curtains can be a tricky process. Not only do you have to measure, cut, and install the rod brackets, but you also have to drill holes for them in the wall. If you're not a woodworker or have never drilled holes before, this might seem like an intimidating task—but it's not!
The instructions below are for the most common type of drill driver tool. You can use either an electric drill or a hand drill; however, if you plan on working with wood you might want to get an electric drill.
#1. First things first: set your drill mode to hole drilling. You don't want hammer mode, since you will not be hammering the brackets in place. Also, you don't want screwdriver mode since you are not driving screws or other pieces of hardware at this point.
#1. Hanging curtains can be a tricky process, but it doesn't have to be! You can use either an electric drill or a hand drill. You'll want to pick a drill bit that's smaller than the screw you're using. This way, when you screw in the bracket, it will create a nice tight fit. I wrote another article about drill bits.
#2. Now comes the fun part: setting your drill speed! Set it as high as possible. This is because we are drilling holes and the drill bit cut/tears the wood. The bit needs to spin fast to do that. The variable speed trigger allows you to vary the speed from 0 RPM to the maximum speed that was selected in this step.
#3. You can start a hole at a low speed, then increase it. This will help keep the drill from slipping as you make your hole.
#4. Screw holes can be tested in scrap wood to see how deep they go and whether or not screws will fit tightly.
Step 3. Screw in the brackets and slip in the rod
If you are hanging curtains on a wall, you will need to drill holes for brackets.
#1. There are several ways to do this. You could use an ordinary screwdriver or tools such as a drill driver.
#2. If you're using a drill driver, put it into screwdriver mode so that you can drive the screw with your drill.
#3. Also, adjust the torque setting so that you don't damage the bracket or strip the head of the screw.
#5. You may want to practice driving the screw into scrap wood first to make sure the process is working properly.
#6. Slip in the curtain rod. Make sure that it is level. A laser level makes this task easy.
Step 4. Install your curtains.
Attach the curtains to the curtain rod with curtain rings or other pieces of hardware.
#1. Make sure they hang properly and that they're the proper distance from the floor.
#2. Enjoy your curtains!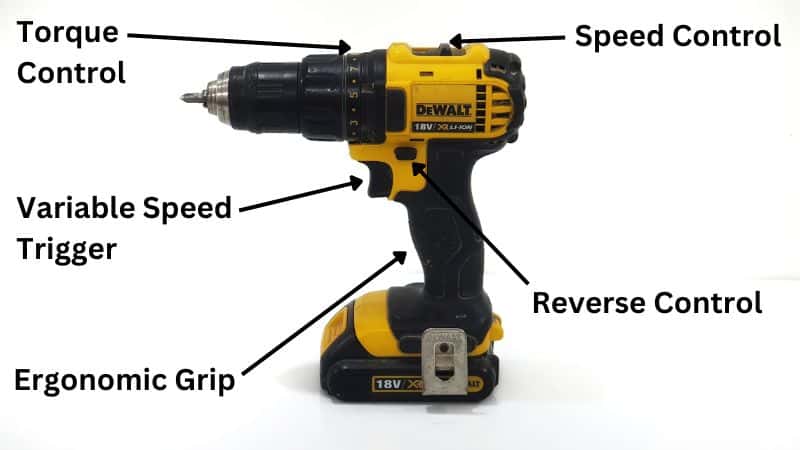 Final words …
There you have it, folks! If you're looking for a quick and easy way to hang curtains without breaking the bank, look no further than a drill. It's not just for drilling holes anymore—it can also help you hang your curtains!
If you're new to woodworking or DIYing, don't worry—you don't need to be an expert to use a drill to hang your curtains. All it takes is a little bit of common sense and patience, which we know all of our readers have in spades. Happy hanging!
Did you enjoy this article? If so, you might like my Pinterest profile. It contains articles about DIY & Crafts, Woodworking, Projects, Tools, Hardware, and many more topics.