So, why do you need to sand wood? When you get it at the lumber yard, it seems to be smooth enough. Sanding can be a very time-consuming process. You shouldn't have to do it if you don't need to, right? Actually, we will see that sanding can turn a so-so project into a great one.
First, what do we mean by sanding? It's always best to start with the dictionary definition:
The process of smoothing or polishing a surface with sandpaper or a mechanical sander

– Lexico.com (powered by Oxford Dictionary)
You use an abrasive sheet, referred to as sandpaper, in order to do the sanding. Move the sandpaper back and forth, along the grain of the wood. This grain is due to the wood fibers.
If you sand across the grain, you'll probably scratch up the wood. Instead of smoothing and polishing the surface, you'll be making it rougher.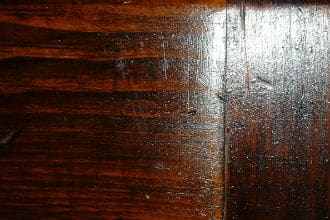 Why You Need To Sand Wood: Types Of Sanders
Clearly, sanding wood can be very tiring and require a lot of elbow grease. So, several power tools can  do most of the work for you:
Orbital Sander – The sandpaper moves in circles or orbits. Use this type of sander for finishing work. However, you need to remove any orbit marks left by the sander. You may want to do the final sanding by hand.
Random Orbital Sander – This takes off even more than the orbital sander above. You may want to use it to smooth out pieces and remove surface defects.
Belt Sander – This takes off even more than the random orbital sander. However, you need to be very careful with it. This type of sander can easily gouge out the wood under the belt. To help avoid this, it's good to move it around. Also, avoid applying too much downward force.
Disk or Drum Sander – Attach these to an electric drill or drill press. The disk is a round plate spinning on an axis through the center. The drum also spins on its own axis. These are both of help when sanding the edges of scrolled pieces cut by a jigsaw, saber saw, or similar tool.
Since these sanders can still leave marks on the wood, it's probably a good idea to do final sanding by hand. Here are some reasons why you should sand your wooden projects:
1. Avoid Splinters
Most pieces of wood contain rough projections that could become splinters. Also, the surfaces are uneven and contain imperfections. In order to take care of them, you need to sand the wood surface. You cannot expect to sell a project if it gives the buyer splinters!
2. Smooth Surface
You need to sand in order to make the surface of the wood smooth. This improves the appearance of your project and brings out the natural beauty of the wood. So, properly sanded projects are more appealing to customers.
In particular, you want to remove milling marks. The picture shows milling marks on wood. They can be made by a rotating blade or cutting surface. Machines that make them include milling machines, wood surfacers, planers, and similar tools.
Usually, one part of the mark is rougher than the other part. The rougher part will absorb more wood stain and be darker than the surrounding wood. As a result, there will be stripes after staining. These marks can detract from the project. So, you want to sand these marks out of the wood surface. This should be done to give the project a more professional look.
3. Prepare Wood For Staining
You might want to start with a power sander. However, machines such as orbital or random orbital sanders can leave marks, so make sure you remove them before proceeding. You might want to move from coarse to medium and then to fine. If a mark is present, you can try a rougher grade of sandpaper, remove the mark, and then resume with the finer grade. Also, you might want to do the final sanding by hand.
If you use a power sander, you need to be careful when approaching the end of a shelf. This is because the machine itself is executing small and rapid motions. It can bang into the shelf support piece. This can leave marks, scratches, or gouges. If this happens, you need to sand those sections and remove the marks. You can be sure that the wood stain will bring out any marks that are there, even if they aren't visible to the eye.
One approach is to switch to hand sanding as you approach the end of a shelf. However, your hand and arm motion can be stopped by the shelf support piece. As a result, you will not be able to use a full stroke when sanding. It is very difficult to sand the shelf evenly or adequately under such conditions.
May Want To Sand Before Assemble
You may want to do sanding before you assemble your project. This lets you sand the ends of the shelves.
This is important when staining because if you cannot sand the shelf ends completely, they will be rougher than the rest of the shelf. More stain will be absorbed by those sections. So, these sections will be darker than the rest of the shelf. Also, the stain will bring out more imperfections in the end region. These things will detract from the appearance of the shelf and your project.
However, you do not want to reduce the thickness of the shelves, in a significant way. Here is the reason for this:
So, how do you hold up the shelf? You can insert it into a dado. This is a type of cut. It looks like a slot or channel. Many tools can make dados. Some examples are table saws, routers, chisels, and others.
You want to make sure that the sanded shelf fits snugly into the dado channel. If you take off too much wood, the shelf can end up being too loose.
So, the solution is to sand the shelves first (before cutting the dado channels). Then, you can set up the dado blade thickness to agree with the sanded shelf thickness. Chippers and spacers come with the dado blade. Use them to set the width of the dado. You might want to test the dado size with a piece of scrap wood. Make sure that the shelf fits snugly.
Finish with a tack cloth (available from the hardware store) to remove hidden wood dust.
4. Why You Need To Sand Wood: Prepare Wood For Painting
Paint is less finicky than wood stain. However, you still need the wood surface to be smooth, with splinters and imperfections removed. Also, you should use a tack cloth after you sand, to remove the wood dust.
5. Round Edges
To start with, the edges of shelves, cabinet tops, etc., are square. Rounded edges look nicer. Appearance is important when you want your project to be less sharp and more user-friendly. In other words, you don't want the user of the project to constantly bump into a sharp 90-degree corner when things can be rounded.
You might be able to take care of this with a router bit or file. However, you will probably want to finish things by hand with sandpaper. This gives you precise control over the rounded edge.
Also, a router bit might burn the wood and you would need rougher sandpaper to remove the discolored material.
6. Why You Need To Sand Wood: Remove Old Finish
You might be able to remove some of a stained surface through sanding. To do this would require fairly rough sandpaper, something like a random orbital sander,  or even a belt sander. Also,  you might need a chemical stripper to remove the finish.
7. Remove Blade Marks From Wood
This picture shows blade marks. Jig Saws (Or Saber Saws), Circular Saws, Table Saws, and other tools make them.
The solution is to start with a rough grade of sandpaper and remove the marks. Then, you can proceed to progressively less coarse grades and finish with fine.
Generally, projects with marks like this are less appealing to buyers. Marks from a Circular or Table saw are usually arc-shaped. A Jig Saw (Saber Saw) leaves line-shaped marks in the wood.
Why You Need To Sand Wood: Conclusion
In this article, we showed why we need to sand wood for our projects. We described some of the common power sanders and mentioned that it is usually a good idea to finish the sanding by hand. In general, you want to move from coarse grits to medium grits to fine grits of sandpaper.
Also, you are interested in making projects that sell and are attractive to buyers. To bring out the natural beauty of the wood and make your project look professional, you need to sand it properly.
So, please feel free to comment on this material. Has anything been left out? Are there additional points to make? How do you sand your wood projects?
This link leads to my boards on Pinterest. If you like them, please follow them. Did you enjoy this post? If so, please share it.